When authorities found Tiger Woods last May, his vehicle was stopped in the middle of the road and he was slumped over at the wheel. His car was damaged, his tires were flat, and Woods could not perform any of the traditional field sobriety tests. He was later charged with driving under the influence, but it wasn't alcohol in his system causing the distress. Woods was on a powerful cocktail of meds prescribed to him by his physician to help him manage postoperative pain and sleep.
With several back surgeries now under his belt, as well as a long-running history for making headlines due to his medication habits, Woods has become a bit of a poster child for the ongoing battle America faces with prescription medications. He's a talented athlete, a public figure, and a father. Now, Woods admits he's also a man with a problem, and he needs help managing his medications. He's not alone. More than 20,000 people lose their lives each year to overdoses on prescription pain medications, and those numbers don't include people who have lost their lives in accidents involving prescription meds either. December is National Impaired Driving Month, and few drivers willfully set out to cause harm. But in the grip of pain, it may be difficult to realize when you have a problem. Please consider the following.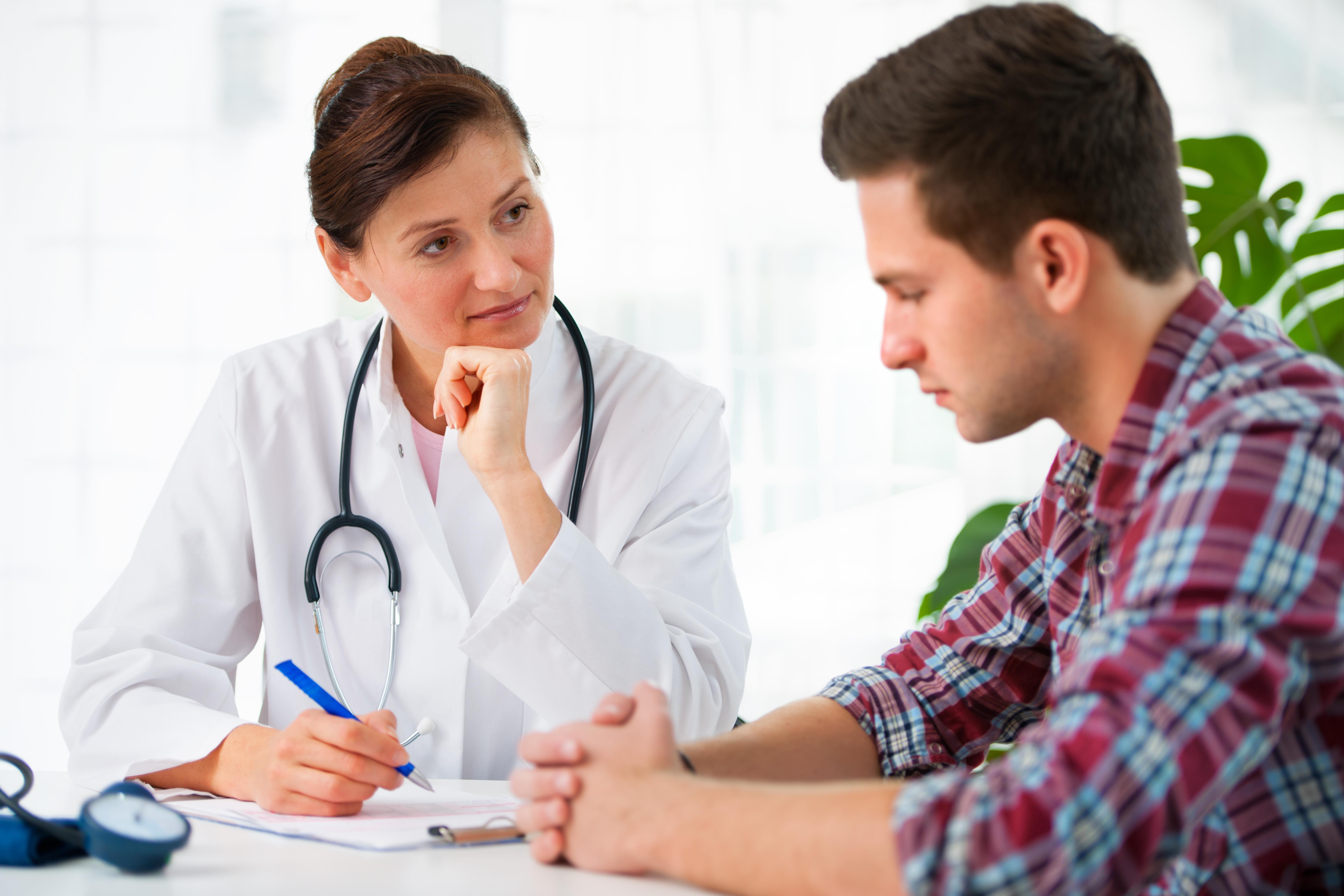 Recognize When You Need Help
Taking pain medication is absolutely necessary for many people. Moreover, taking it after a surgery can help ensure that a person's body heals well and that they are able to resume normal activities faster. However, it took falling asleep at the wheel and being arrested for Woods to finally acknowledge his situation, and while he should be applauded for having the bravery to seek help, perhaps his arrest could have been avoided if he had noticed signs and taken preemptive action.
Signs to Watch For
According to WebMD, some signs to watch for include:
strong desire to use opioids

inability to control or reduce use

trouble meeting social or work obligations

having legal problems due to drug use

spending large amounts of time to obtain opiates

development of tolerance (meaning the need to use larger amounts over time)

having withdrawal symptoms after stopping or reducing use (such as depressed mood, stomach upset, insomnia, and muscle aches)
How to Talk to Your Doctor
If you recognize any of the signs above or have concerns about the medications you're taking, it's important to have a discussion with your doctor. Based on news reports, it seems Woods opted for in-patient treatment, which often includes changing medications and learning more about how specific prescriptions interact and impact the body. However, with your physician's help, you can make similar changes and lower your risk from home.
1) Remember Your Doctor is Familiar with Your Condition
Many people shy away from these discussions because they fear judgment or believe they're at fault, but your physician knows the medications he prescribes and understands how they impact people. He will be your biggest ally in managing your prescriptions better, but he needs information only you can provide to do it.
2) Share All Information
Your physician needs to know everything you're taking, whether it's simply the prescriptions he has given you, over-the-counter medications like antihistamines, supplements, or things you've obtained through other sources. Speak freely about how much of each medication you're taking, when you're taking it, what symptoms you have, and how you feel while you have the med in your system. Each bit of information will help him piece together how to best help you.
3) Ask Questions
Each person's body will respond differently to medications, so it's important to ask questions if anything seems unclear or doesn't feel like the right choice for you. Your physician may suggest that you come off a medication entirely or may simply suggest you reduce the amount. Either of these can result in withdrawal, so it's also helpful to ask about possible withdrawal symptoms, the length of time you'll need to transition, and details of any new medications he recommends as replacements or to help you manage withdrawal symptoms.
Get Help Early
Woods is one of many public figures who have had issues with prescription pain medications in recent years. Both Prince and Michael Jackson are among those who did not get the help they needed and did not have positive outcomes. This only highlights the importance of paying attention to how your body responds to medications and getting in to see your physician as soon as possible when you think you might need help.
Get Help Managing Your Prescription Costs
If your physician recommends that you switch to a medication that is not covered by your insurance, or suggests you take prescription medication to manage withdrawal symptoms, RefillWise can help. Our prescription discount program works across a broad spectrum of medications and saves people an average of 40%. To get your free RefillWise card, text JOIN to 22822 or sign up on our site today.
We are all caregivers in some way. Perhaps we look after family, friends, neighbors, or even pets, offering medicine or bringing chicken noodle soup when someone is sick, or simply being a compassionate ear when a loved one needs to talk. However, some of us have ventured into extraordinary caregiver journeys. We care for grandparents, parents, spouses, children, and other family members who can no longer care for themselves—those who suffer from Alzheimer's, dementia, strokes, and other disabilities.
It's estimated that there are 44 million family caregivers in the United States, providing roughly 75% of all necessary care services. Family members spend about 37 billion hours each year providing care which, if paid, would amount to at least $470 billion in wages annually. What's more, AARP notes that caregivers spend about 20% of their own wages to provide for those they care for, which amounts to $6,954 on average, or as much as $9,022 per year in certain demographic groups.
If you're a family caregiver, you probably don't need to be reminded of your ongoing sacrifices; you know them well. However, in honor of National Family Caregiver Month, we'd like to recognize the work that you're doing, and provide you with information about a few resources that may be able to ease some of your strain.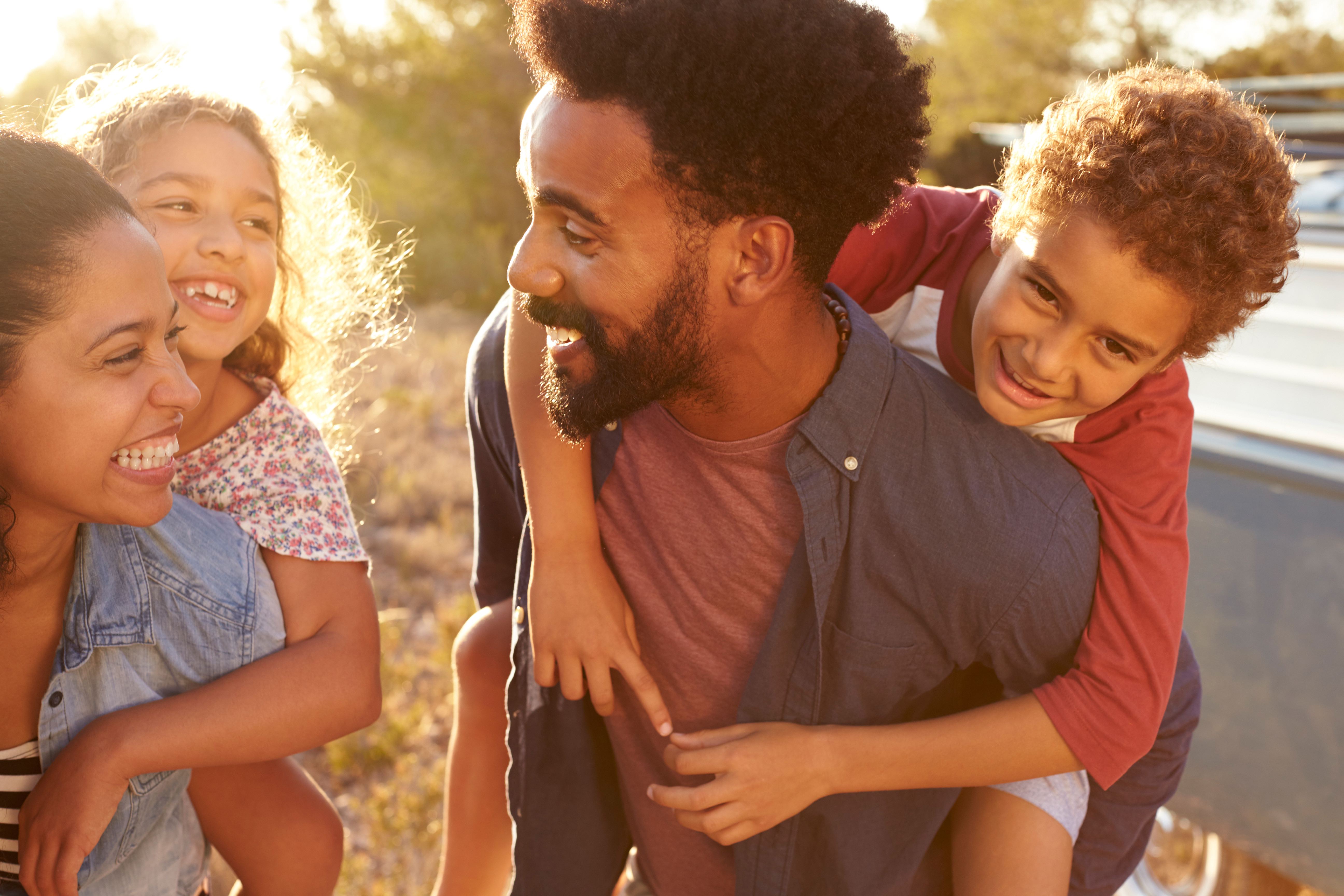 1) Support Groups
Although each caregiving journey is unique, many of the challenges individual caregivers face share similarities — from trying to carve out "me" time, to navigating the medical community, sorting through government benefits and insurance plans, and more. On top of this, caregiving can be emotionally trying as well. It helps to have support from others who are working through similar challenges or who can simply understand what you're coping with. Your local hospital or your loved one's physician can usually point you in the direction of support groups designed for caregivers in your area. In addition, MeetUp.com often lists local support groups, or you can create a group if it doesn't already exist in your area. If getting out to meet in person is difficult, various online support groups are available, such as The Caregiver Space, the Smart Patients Caregiving Community and Caregiving.com.
2) Respite Care
Many insurance plans offer respite care benefits. Medicare and Medicaid will provide them under specific circumstances as well. Respite care is a special type of temporary care provided for people with disabilities or life-threatening illnesses. Although the duration of relief care varies, it often gives caregivers a few days or couple of weeks each year to rest, travel, or see to their own personal needs. If your insurance does not cover respite care, see Julia Quinn-Szcesuil's Care.com article "How Do I Pay for Respite Care?"
3) In-Home Healthcare
Like respite care, in-home healthcare is often a covered benefit of insurance plans, including Medicare and Medicaid plans. It can help bridge the gap between enabling someone to stay at home and recovering in a skilled rehabilitation center or staying in a nursing home. While it's not ideal for someone who needs around-the-clock care, it can help caregivers make ends meet, as the healthcare specialist can assist with things like bathing and dressing wounds during a visit. Philip Moeller walks a caregiver through the process of setting up in-home healthcare through Medicare on PBS News Hour.
4) Local Area Agency on Aging
Your local Area Agency on Aging can provide a wealth of information and connect you with all sorts of resources, ranging from assistance understanding benefits that are available to finding care providers and services in your area. To find your local resource, visit the National Association of Area Agencies on Aging website and enter your location.
5) FMLA
Most people have to work a paid job in addition to caregiving, and that presents unique challenges as well. Between needing time off for surgeries and doctor appointments to managing affairs and providing physical care, flexibility from employers is often needed. The Family Medical Leave Act (FMLA) provides a pathway for people caring for others to take time off when they need it, without worry about losing their job.
6) Benefits Checkup
With so much going on and so many things to track, it's easy to overlook a benefit or service you may be entitled to that can ease some of your burden. The Benefits Checkup provided by the National Council on Aging lets you enter your location to see all programs in your area you or your loved one may qualify for.
7) RefillWise
Oftentimes, insurance plans and medical programs leave a gap, and not everyone is fortunate enough to have coverage either. Expenses for things like medical equipment and prescriptions add up fast. If you're a caregiver acting as head-of-household, you may also be struggling with the cost of pet medications, and general household expenses too. RefillWise can help with all these things. Our free pharmacy discount card works on all prescription medications, as well as prescription medical equipment, and can be used at most popular pharmacies — saving you money whether you need to make purchases for yourself, your family, the person you're caring for, and even your pets. Best of all, our rewards program offers you cash back for using our card, which you can use on all your other needs, from groceries to hygiene supplies, clothing, or little treats for yourself. To get started, text JOIN to 22822 or sign up on our site now.
Although the FDA cautions against the practice, and 62% of the population believes it's less safe than purchasing from a brick-and-mortar pharmacy, buying prescriptions drugs online is like a siren call to millions every year according to Pew Research. Some say they do it to get affordable prescriptions, while others cite things like convenience and privacy, but what they may not know is that they could pay the ultimate price for those would-be benefits.
1) Some Drugs are Formulated with Toxic Ingredients
The greatest danger in purchasing drugs online is that there is no guarantee the pharmacy is based in the United States or that any controls are in place to test the validity of the drug. According to Consumer Reports, "dangerous contaminants, including toxic yellow highway paint, heavy metals, and rat poison" are included in some mixes.
2) Dosing is Not Always Accurate
In pharmacies with little or no oversight, it's not uncommon to find drugs that contain varying amounts of the active ingredient. At best, this could render the medications ineffective. At worst, it leads to deadly overdoses.
3) An Online Pharmacy May Prevent You from Getting the Help You Need
"Using unproven treatments can delay getting a potentially life-saving diagnosis and medication that actually works," cautions Gary Coody, R.Ph., the FDA's national health fraud coordinator. He was speaking of fraudulent medications, especially those that make bogus claims about what the substance can do. This is common with drugs sold to enhance sexual performance or aid in weight loss, but it's also seen with substances marketed as cures for things like Alzheimer's disease, diabetes, and other serious conditions. Always beware of drugs that seem too good to be true, tout themselves as a miracle cure, claim to be an ancient remedy, or promise instant results.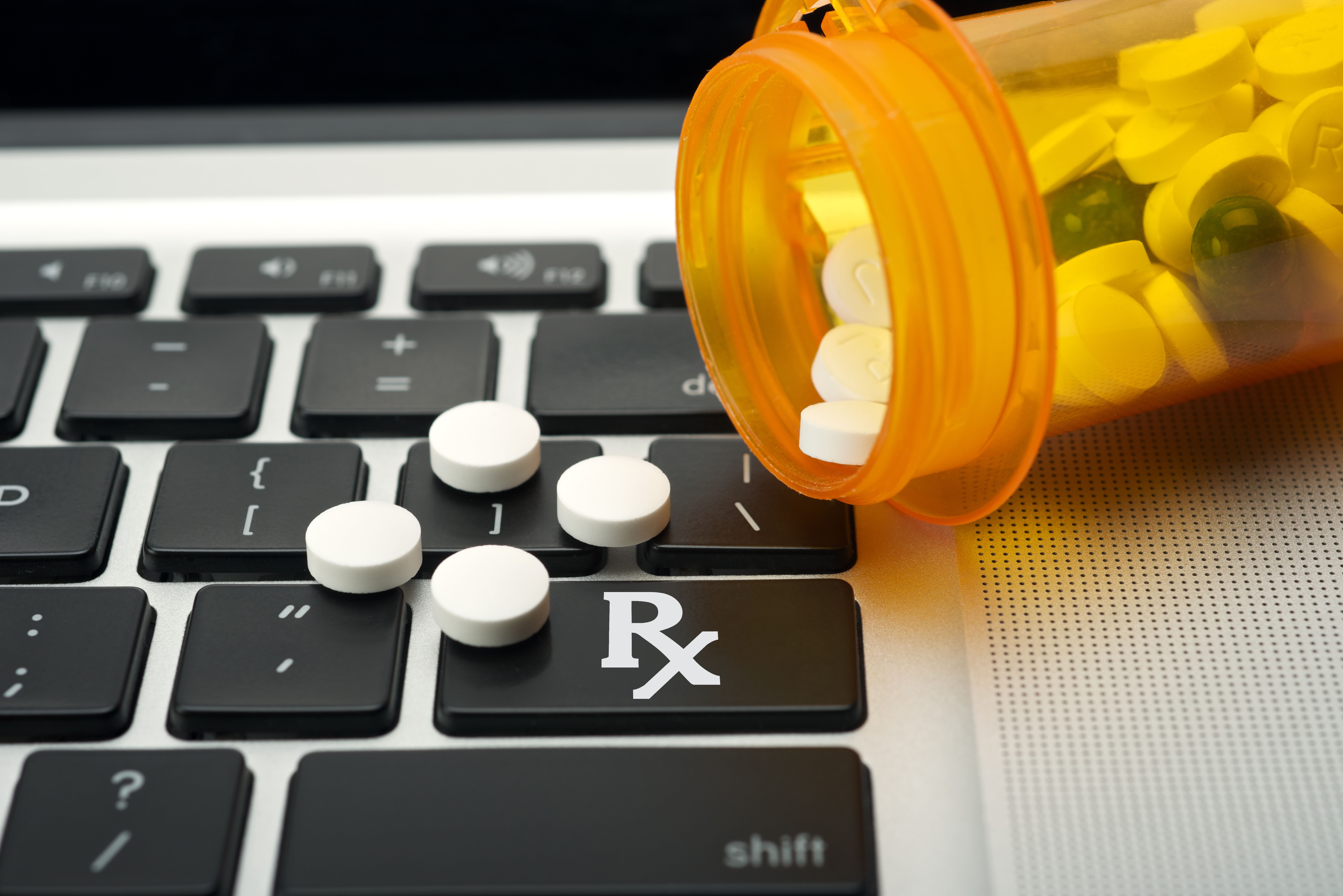 4) You Can't Tell How a Medication was Handled
Many medications require a specific environment to maintain their potency. Oftentimes, this means that they must be kept away from heat and sunlight, or even refrigerated. When medications are shipped from unknown pharmacies, it's difficult to know if they were handled properly, both by the company and by the shipper.
5) The Medications You're Buying May Be Illegal
If you're obtaining prescription drugs and you do not have a valid prescription for them, you're breaking US law by bringing them into the country. It's also illegal to bring medications in that aren't approved by the FDA. Either situation could land you in hot water with the federal government.
6) 96% of Online Pharmacies are Considered "Rogue"
The National Association of Boards of Pharmacy (NABP) makes a point of researching as many online pharmacies as it can to see if they're legit. At last count, the non-profit had checked nearly 11,500 outlets and discovered that roughly 96% are not compliant with US pharmacy laws. In other words, if you buy online, there's only a 4% chance you're buying from a legal pharmacy.
The Association for Safe Online Pharmacies (ASOP) in this infographic describes how international pharmacies, like those in Canada, take advantage of the lack of regulations to secretly send American consumers potentially unsafe medicines from India or China.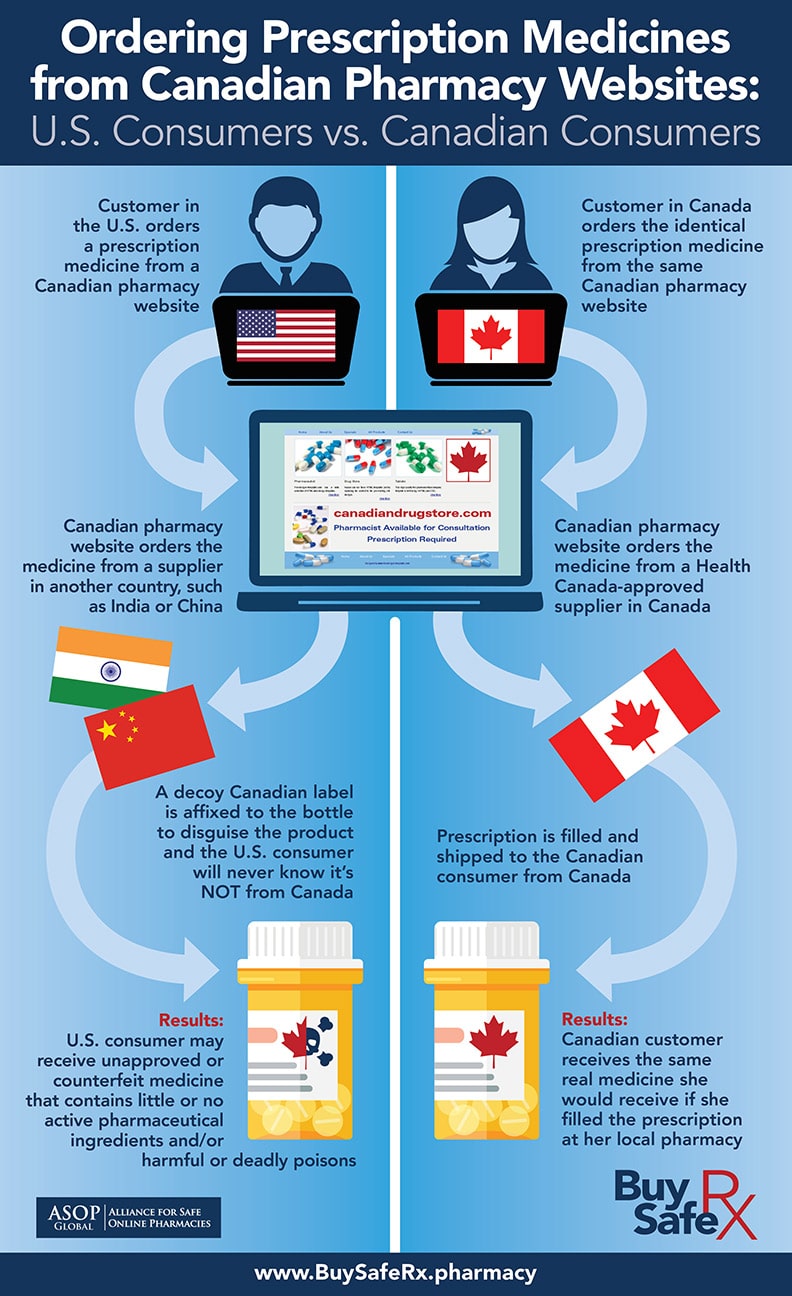 Get Affordable Prescriptions with Help from RefillWise
RefillWise only partners with reputable brick-and-mortar pharmacies, so you can be sure that you're always getting the medications you need in a safe and affordable way. Our cardholders save an average of 40% on prescriptions, medical equipment, and pet medicines. If you'd like to begin saving as well, text JOIN to 22822 or sign up on our site today.

Drug safety in the home isn't something many of us consider. We may curse a medicine bottle's child protection "features" slowing us from taking a dose, but overall, we've become very complacent. Looking at opioids alone paints a very grave picture. Data from Johns Hopkins University Bloomberg School of Public Health indicates 73% of adults surveyed understand that children are more susceptible to opioid overdose, but a mere 13% have concerns over their children accessing them. What's more, only 12% store their medications safely. Kids aren't the only ones at risk, though. Read on to find out more about how your medications may be putting you and your family in danger, and what you can do about it now.
1) More than 80,000 Children are Hospitalized for Overdoses Each Year
Data regarding drug overdoses is incredibly difficult to come by, as most statistics lump together all poisonings, including children who are exposed to pesticides and household cleaners. However, we do know that these things together sent more than 600,000 children aged 17 and under to the emergency room over the past five years, and, historically, around 70% of all cases involve medications. In fact, overdose deaths among children nearly doubled between 1999 and 2015. Despite the prevalence of childhood overdoses, the trend shows no signs of slowing.
Prevention Tips for Childhood Medication Overdoses
Lock all your medications up. One-in-five children who overdose sneak the medication from unaware caregivers. Various options to secure medications are available, from cabinets to special lockboxes. Find a solution that works for you and make sure children do not have access to the key.
Never compare medicine to candy when talking to children. It can be tempting to encourage kids to take their medicine by telling them it tastes like candy, but this may cause a child to believe medications are not dangerous. Moreover, many do look and taste like treats, which can cause further confusion.
Dispose of patches properly. Many medications now come in patch form, which can seem like stickers to children. Despite already being used, they often contain enough of the medication to cause death or illness. Patches should always be disposed of in accordance with the manufacturer's guidelines, while keeping them out of reach of children. Consider taking them straight to your outdoor bin if you have children in your home, or to your local collection site on National Prescription Drug Take Back Day, October 28, 2017.
Carefully measure doses. Even acetaminophen (Tylenol) has the potential to kill, and it sends more than 7,000 kids to the ER yearly. Sadly, about 18% of them are given the medication by caregivers.
2) One-in-Four Teens Admits to Abusing Prescription Drugs
According to Partnership for Drug-Free Kids, "misuse and abuse of prescription drugs is now a normalized behavior among teens," with nearly one-in-four self-reporting they have abused a prescription drug at least once. This equates to roughly 5.5 million kids, and around 16%, or 2.7 million teens, have abused a stimulant, such as Adderall or Ritalin. Painkillers are a big draw as well, with 10% admitting they've abused one within the past year. The FDA further warns of potentially deadly "pharm parties." During these gatherings, kids bring drugs to share with their friends, often from a medicine cabinet at home. It's no surprise, then, that 49% of teens who abuse prescription drugs say they've gotten them from friends.
Prevention Tips for Teen Prescription Drug Abuse
Lock your medications up. Many parents mistakenly believe that risks reduce as their children age or that their child won't be one to abuse prescription drugs. The Johns Hopkins survey indicated parents have less concern and are less likely to lock up meds as their children age. At the same time, information from Partnership indicates that 56% of teens think it's easy to get medications from their parents' medicine cabinet, and 42% of those who abuse medications say they take them from the medicine cabinet at home.
Don't share your medications with anyone. Around 20% of parents admit to sharing prescriptions with their kids, which creates a nonchalant attitude about sharing medications. Understand the dangers of prescription drug use and talk to your kids about them. One of the greatest indicators of teen drug abuse is parental stance. Nearly one-third of parents erroneously believe ADHD meds can help their child academically, even if he or she has not been diagnosed with the condition. Moreover, 16% of parents think prescriptions are safer than street drugs.
Get rid of your old or unused medications. It's estimated that 17% of households keep unused medications around. They should be discarded in accordance with the label. Find a drug collection center if you are unsure how to properly dispose of a medication. Participating in National Prescription Drug Take Back Day on Saturday October 28 is a great first step in tossing your old, unused, or unneeded medications.
3) Adults Aged 45–54 Are the Most Likely to Die from an Overdose
While overdose and abuse among children and teens is still cause for concern, it's adults who are most likely to die from an overdose. The 45-54 age group has the highest rate of death, at 30 deaths per 100,000 individuals, according to the CDC. Compared to people aged 15-24, those in the age groups of 25–34, 35–44, 45–54, and 55–64 are twice as likely to die of an overdose. It would be easy to chalk these deaths up to suicide, but medical examiners conclude at least 80% of these deaths are unintentional. The greatest culprit is opioids, namely drugs like methadone, oxycodone (OxyContin®), and hydrocodone (Vicodin®), with more than 1,000 people visiting emergency rooms daily after failing to take opioid medications as prescribed.
Prevention Tips for Adult Overdose
Follow your doctor's instructions. Many people try to "catch up" missed doses by taking more than prescribed, or take more to cope with greater pain. This can prove to be the start of a vicious cycle or a deadly mistake. Be aware that you will build up tolerance to certain medications. One of the greatest dangers of opioids is that people build up a tolerance to them, so more of the medication is needed over time. If you feel like your medication isn't helping like it used to, talk to your doctor about alternatives or changing your dose.
Be aware that tolerance can reduce rapidly. Under certain circumstances, such as if a person has been ill, not eating, or not taking a dose as prescribed, the tolerance level can go down. The same is true when a person moves from a short-acting to a longer-lasting dose. If a person is unaware that their tolerance has reduced, it's easy to ingest toxic levels of medications just by taking a normal dose.
Teach your family about symptoms of an overdose and what to do in an emergency. Prescription drug overdoses can become fatal quickly and most happen at home. Talk with your loved ones and teach them what to look for and what to do in case of an emergency, as time is of the essence.
4) Overdoses Come with Many Tell-Tale Signs
Being familiar with the signs of overdose can save a life. Learn the symptoms and share them with your friends and family.
Drowsiness: If a person becomes drowsy for no reason or is not responsive, treat it as a medical emergency. Do not let them fall asleep or attempt to "sleep it off," as you won't be able to monitor them and their condition could worsen. It's also unwise to let them shower in attempt to wake up or make themselves feel better because the temperature change can send them into shock.
Vomiting or Abdominal Pain: Many medication overdoses present with vomiting or severe upset stomach.
Breathing Troubles: Medications such as opioids suppress the respiratory system, so a person may have difficulty breathing or may stop breathing altogether.
Loss of Coordination: Issues like loss of motor control and coordination may signal an overdose or other medical emergency.
Seizures: Though rare, seizures, or uncontrollable muscle contractions, can be a serious warning sign.
Skin Changes: It's common to see a variety of skin changes in someone experiencing an overdose. Occasionally, the skin may become warm to the touch, though an individual will typically become pale and clammy. If breathing issues are present, a person's mouth and nails may become bluish as well.
Mood Changes: Sometimes, a person will present with typical Hollywood-style mood changes, such as extreme aggression and irritability. However, anxiety and depression-like symptoms are just as common.
5) You Can Throw Away Your Ipecac
According to the Mayo Clinic, ipecac syrup is no longer recommended. In fact, doing anything to induce vomiting, even if overdose is suspected, can be dangerous.
Tips for Dealing with an Overdose
Learn CPR in advance. This will keep oxygen and blood flowing until emergency crews arrive. If it's been a few years since you took a class, take a refresher course.
Keep Narcan (also called "Naxolone") on hand if taking prescription opioids. Narcan is fast-acting and will counter the effects of an opioid overdose. It comes in an injectable form as well as a nose spray. Your friends and family should know where yours is stored and be familiar with how to administer it. You will still need to be checked by a medical professional afterward, but it can save your life.
Perform a quick inspection. Make sure the person does not have anything lodged in his or her mouth, and gather up any bottles of medications that he or she may have taken. The emergency response team will ask questions about any medications the person takes.
Be calm and call 911. Time is precious. If you suspect an overdose, call emergency services right away, even if the person tells you not to. Fast action from trained medical professionals can save a life.
A Final Word from RefillWise
Prescribed medications save lives and improve the quality of lives of people every day, but they do need to be kept properly and taken as instructed. We believe that everyone should be able to live life to its fullest, which is why we're committed to providing the public with helpful information about prescriptions, as well as access to life-enhancing medications at reduced costs. Whether you take regular medication or your doctor has prescribed a single dose of something like Narcan to keep on hand, our free prescription discount card can make affording your medications easier. Sign up for your free RefillWise prescription discount card on our website or text JOIN to 22822 now.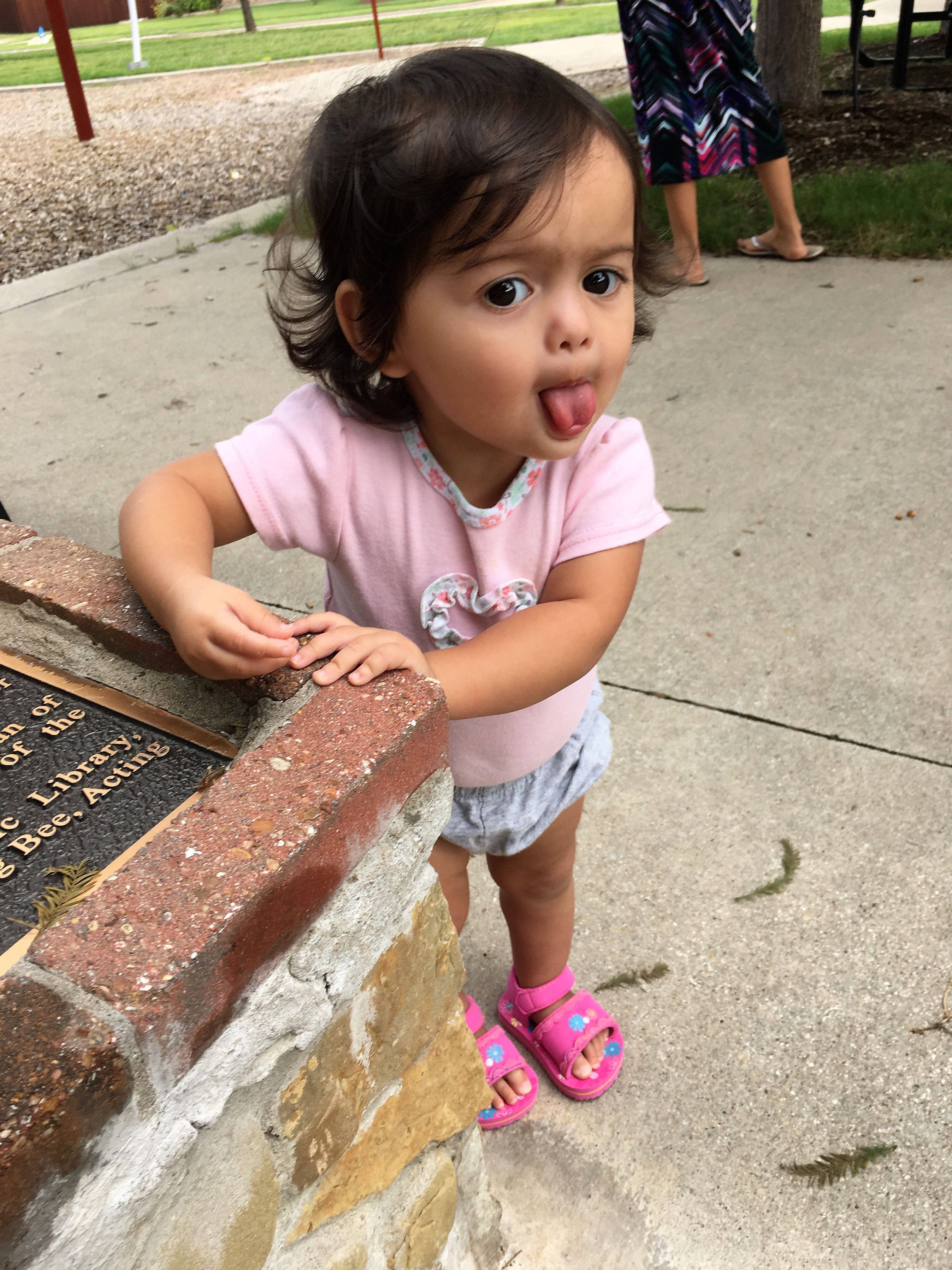 If you're looking for a good excuse to chat about your teeth, you get a free pass this October. Known officially as National Dental Hygiene Month, the month-long celebration offers the opportunity to behave like a dentist or let someone know just how important it is to floss. However, if you're one of the millions of Americans who suffer from dry mouth, clinically referred to as xerostomia, the simple act of talking or extending your tongue can range from mildly unpleasant to downright uncomfortable. The good news is, xerostomia symptoms are fairly easily treated.
What Causes Xerostomia
Occasionally, excessive dry mouth has no known cause, but there are many things that can stop the production of saliva and result in it. The condition is seen most often in certain demographic groups, such as seniors. Specific medications are linked to it, as well as several other medical conditions.
Common Medications Linked to Xerostomia
Antibiotics

Antidepressants

Antihistamines

Anxiety Medications

Blood Pressure Medications

Decongestants

Diuretics

Overactive Bladder Medications

Parkinson's Disease Medications

Muscle Relaxers

Pain Medications
Common Medical Conditions Linked to Xerostomia
Alzheimer's Disease

Anxiety

Depression

Diabetes

Head or Neck Cancer (while receiving radiation therapy)

Lupus

Parkinson's Disease

Rheumatoid Arthritis

Sjögren Disease

Stress

Stroke
Why Treatment is Essential
Naturally, those who suffer from xerostomia generally want to correct the problem because their mouth feels uncomfortable or because they want to eliminate some of the other symptoms associated with it. However, the condition can lead to much bigger problems, such as oral infections and tooth decay. This is because saliva keeps the mouth healthy. It regulates pH and helps move food particles away from the teeth, and, perhaps most importantly, it bathes teeth and oral tissue in minerals and good bacteria. Without saliva, the bad bacteria that causes tooth decay can sometimes thrive, the minerals that teeth soak up to stay strong deplete, and tissues lose their protective coating, creating the perfect environment for decay, tissue damage, and infections.
Treatment for Xerostomia
Talk to your doctor. It's important for a medical professional to evaluate your condition, identify its cause, and determine the best possible treatment for your needs. Your physician may recommend that you switch medications or recommend an alternate treatment. For example, if your condition is worsened by mouth breathing, your doctor may investigate causes like allergies or sleep apnea.

See your dentist twice a year or more. Regular dental care is absolutely necessary if you're in a high-risk category for decay. Most people should visit twice per year, but your dentist may suggest you visit three or four times if you have specific medical conditions or have a high decay rate. Moreover, your dentist may recommend fluoride to help prevent cavities or another type of mineralizing agent to strengthen your teeth if you're at risk for decay, in addition to treating the xerostomia.

Use alcohol-free oral hygiene products. If you're a fan of mouthwash, select an alcohol-free variety. There are many over the counter dry mouth products, such as mouthwash, gel, lozenges and spray that moisturize and protect your mouth.

Suck on sugar-free candy and mints. This increases the production of saliva. Look for something containing the sugar substitute xylitol for its added cavity-fighting benefits, but use it in moderation because it can cause diarrhea in some people with sensitivities.

Cut out tobacco and spicy foods. These can worsen xerostomia.

Drink lots of water. Naturally, staying hydrated will reduce the symptoms associated with dry mouth.

Practice good oral hygiene. To stave off cavities, be sure to brush and floss after every meal.

Run a humidifier. Adding moisture to the air will help keep your oral tissues moist.
RefillWise is Your Partner in Fighting Xerostomia
When consulting with your healthcare provider, know that RefillWise can make prescription options needed to treat conditions and symptoms commonly linked with xerostomia more affordable. Our free card saves 40% on average at all chain and most independent pharmacies. Stick your tongue out at xerostomia. Sign up for your free RefillWise pharmacy discount card or text JOIN to 22822 to instantly save on prescriptions while earning cash rewards for over the counter remedies and other necessities right away.