With a market currently valued around $4.4 billion, it's no surprise a lot of RefillWise users ask about savings on erectile dysfunction drugs such as Cialis. Many have questions, but some feel embarrassed to ask everything on their mind because the topic can get a little awkward. We've put together answers to some of the more frequent questions we get in the hopes of keeping everyone safe, sparing a bit of embarrassment, and helping you save money on two of the most popular drugs in America.
Can I order it online without a prescription?
This is one of the most common questions we receive, so let's be clear. The short answer is no, not really.
Thousands of companies advertising online claim to offer Cialis and Viagra for huge discounts without needing a prescription. A lot of these companies suggest they're Canadian, British, or American to try and gain your trust, but you can't really know the source or quality of these manufacturers. All of them gladly take your money. Some then disappear or ignore follow up emails and calls. Others might send medication in the mail that is supposedly brand name, but it's a safe bet that the pill you're about to introduce to your system came from an unregulated "lab" somewhere.
That doesn't necessarily mean it's going to kill you, but it doesn't mean it's safe either. It also doesn't mean the product will work. A lot of these pills are sugar placebos or random cocktails of generic ingredients. A few of them may even contain added narcotics like opium. Although some people claim they've ordered from these shady online sources with satisfactory results, there are also many stories of those who either lost their money or received pills that didn't work, and even more who began receiving a large quantity of spam phone calls and emails from Indian companies after placing orders.
Just to be clear…if you're considering this option, don't. In this day and age, ordering potentially dangerous medications from mystery pharmacies on the internet is a bad idea for a whole bunch of reasons. On behalf of the RefillWise family, we encourage you to reread that sentence a few times over and make a careful, responsible life decision.
Do they really work?
Yes, ED drugs like Viagra and Cialis actually do enable most men to achieve an erection, so in that sense they do work. If you think about what that question really means, however, the answer is more nuanced. Although achieving and maintaining an erection is a big part of sex, it does not guarantee a satisfying experience for either participant. The effects of the drugs are only physical — they won't create a sincere attraction to your partner where there is none. Put simply, they'll better enable you to have sex, but they won't necessarily make you want sex. If you don't actually want to have sex with your partner, then the issue isn't related to your penis.
What's the difference between Cialis and Viagra? Is one better than the other?
The biological mechanism of the drugs is similar, but there are some subtle differences between them.
Viagra
Taking a dose of Viagra basically means you're going to have an erection for 4 hours come hell or high water. It's not guaranteed, but most users experience an erection within 30 minutes of ingestion, sometimes even without any stimulation. The erection typically lasts in varying states of rigidity until the drug exits the system in 3-5 hours.
Cialis
Unlike Viagra, taking a dose of Cialis doesn't directly result in an erection, but instead heightens the likelihood and frequency of achieving an erection while the drug is in your system, which can be anywhere from 1 to 3 days. In laymen's terms, it requires a little more mental effort and/or stimulation to take effect but will last a full weekend. Some users claim it's a more organic and therefore enjoyable sexual experience, while others believe it doesn't work as well as Viagra and are unable to achieve an erection at all.
How much does it cost?
Unsurprisingly, neither of these drugs are cheap. If your insurance does not cover ED treatments, Viagra and Cialis (single use) are probably going to run you between $56 to $66 per pill. Consequently, most prescriptions end up being just a few pills at a time. The drug manufacturers will sometimes run promotions or offer coupons for discounts on your first 3 pills, but after that you're on your own to pay the full price. RefillWise can help save $10 to $40 or $50 on these prescriptions, which also helps ease the burden.
If the single use pills are cost prohibitive but 2 or 3 pills aren't enough to last a month, Cialis also offers a daily use option of 2.5mg or 5mg which costs around $12 to $15 per pill, and begins to take effect by the 4th day. The end result is still somewhat expensive per month, but if taken daily, provides the same outcome of the single use at a fraction of what 30 single use pills would cost. RefillWise can also save up to $50 on these prescriptions.
Other Awkward Questions People Ask
Does it make you last longer?
This is a likely effect. Both Cialis and Viagra result in increased blood flow to the penis, which also decreases sensitivity to varying degrees based on dosage strength, metabolism, diet, and many other factors. Everyone is different, however.
Will they increase penis size?
No. That's not really a thing. There might be more blood flow than usual, but no measurable difference in size.
What tips would you give men taking it for the first time?
Abstain from intercourse and masturbation for a few days before. Try to eat healthy, stay hydrated, and don't drink too much alcohol.

If you, personally, are not skipping some of your medications, missing doses, or holding off on refills, chances are you know someone who is. According to the latest research from the CDC, nearly one-in-ten is not taking their prescriptions. While the dangers associated with missed doses varies based on the type of medication and other factors, a CNBC report indicates 125,000 die every single year from incorrect or missed doses. It's that serious. Some outlets want nothing more than to chalk these deaths up to forgetfulness, but there's something much more going on.
Prescriptions are Not Affordable
"When people are unemployed or don't have insurance, where do they go? What do they do?" asked Dr. Ian Silverstein in a 2011 ABC News report. "People end up dying, and these are the most treatable, preventable diseases in the world." The article was covering the heartbreaking tale of an Ohio man who could only afford one of the medications he needed to treat a tooth infection. Due to costs, he chose to only purchase only his pain medication, versus picking up the antibiotic that would have killed his infection- a decision which proved fatal. This sad story occurs all across America every single day. With the man in Ohio, even a low-cost antibiotic may have saved his life.
Those Living in Poverty and the Elderly Are Most At-Risk
The alarming CDC stats indicate that nearly 8% of all US adults have not taken medications as prescribed, specifically to save money. Those least at-risk were the privately insured, with around 6.1% missing doses. Those on Medicare fared worse, with more than 10% not taking their medications properly. The group not surprisingly most likely to miss doses: the uninsured, with a somber 14% not taking medications they've been prescribed and need. The same percentage is seen in low-income households earning roughly $31,000 for a family of 4, yet if the income rises to $58,000, non-compliance due to cost is nearly cut in half. Younger generations, aged 18-64, also beat out their senior counterparts nearly two-to-one when it came to skipping doses due to costs.
People Are Using Other Dangerous Means to Get Affordable Prescriptions
According to the CDC, people who can't afford their medications are using other dangerous tactics to get by as well. One of the most popular involves sourcing drugs online, particularly from foreign countries. Unfortunately, the market is rife with counterfeit medications that are completely ineffective at their best and deadly at their worst. Others turn to alternative therapies and their conditions worsen.
There are Safe Ways to Get Affordable Prescriptions
There are a few safe options for those who are short on cash, but are in need of prescriptions. The CDC notes that about 15% of all people have asked their physicians to prescribe less-expensive medications. However, not all drugs are equal, and this, too, can have unintended consequences, such as additional side effects and a longer recovery time. At RefillWise, we believe that everyone should have access to the medications they need, which is why we offer our prescription discount card free of charge. If you're struggling to cover your prescriptions, the RefillWise card can save you as much as 80% on your medications. Sign up today and begin saving right away.

An Epidemic
A serious health crisis has swept the United States. It is important that you learn how to protect yourself and your friends and family.
This growing epidemic is opioid addiction. You may have seen the headlines, news stories, and pictures of people passed out in cars and on streets. The opioid addiction rate in the United States is growing and so is the rate of overdoses and deaths due to opioid abuse. The number of prescription opioids dispensed by pharmacies since 1999 has more than quadrupled, and more than 60% of drug overdose deaths are related to opioid use. As a result, the number of babies born addicted to opioids is steadily rising, and life expectancy in the U.S. is in decline for the first time in more than a generation.
What are Opioids
Opioids are not always illegal. Because opioids are used for pain management, thousands of prescriptions for legal opioids are filled every day. These include the drugs OxyContin and Vicodin.
But there are illegal opioids too such as heroin. Plus, prescription opioids are made, sold, and used illegally as well.
It is most common for patients to be prescribed an opioid to manage pain following surgery, then to develop dependence or an addiction. Opioid use in the United States differs dramatically from drug use in other countries. Eighty percent of the world's opioid use is in the United States, even though we have only 4.6% of the global population.
Opioids work by attaching to opiate sensors in your brain, spinal cord, and gastrointestinal tract. Your body produces opiates on its own, but not enough to keep you from feeling the pain of a broken leg. Your body quickly becomes used to the higher amount of opioid and needs more and more to get the same result. If you do not take the opioid, you may not feel well until your body gets used to not having the the high levels of opiates in the system.
Dependence and Addiction
You may not realize opioid addiction is a medical condition, not just a poor lifestyle choice. Because the body quickly becomes dependent on opioids, it is easy to develop an addiction while taking opioids for legitimate reasons.
The brain of someone who is using opioids appropriately as prescribed can revert back to normal after they stop using the drugs. However, the brain of an opioid addict has changed to such an extent that ending the addiction is challenging and requires long-term treatment and support.
The pain and discomfort of withdrawal symptoms is a primary reason so many people continue to take opioids.
The initial withdrawal symptoms include:
muscle aches

anxiety

sweating

insomnia

yawning
After the initial few hours, symptoms worsen for several days and can include:
diarrhea

abdominal cramping

nausea and vomiting

dilated pupils

rapid heartbeat

high blood pressure
Help for Addicts
The CDC has identified treatment for addicts as one of the keys to ending this current epidemic. Medication Assisted Treatment (MAT) is one of the primary ways addicts can end their addiction. MAT combines the use of prescription medications like methadone or buprenorphine with counseling and behavioral therapies. Going to a residential treatment center may be necessary.
Because treatment often requires prescription medication and other medical treatment, the uninsured and underinsured may resist seeking help. It's important to know that there is help even if you do not have insurance that will cover your treatment.
Look for a treatment center that offers payment plans or sliding scale fees based on your income. Use a free RefillWise card to afford Naloxene HCL, which is in rescue injectors, or to instantly save on prescription cessation aids including methadone and buprenorphine. And talk to your doctors. They are in a position to help connect you to recovery resources, therapists, and treatment facilities.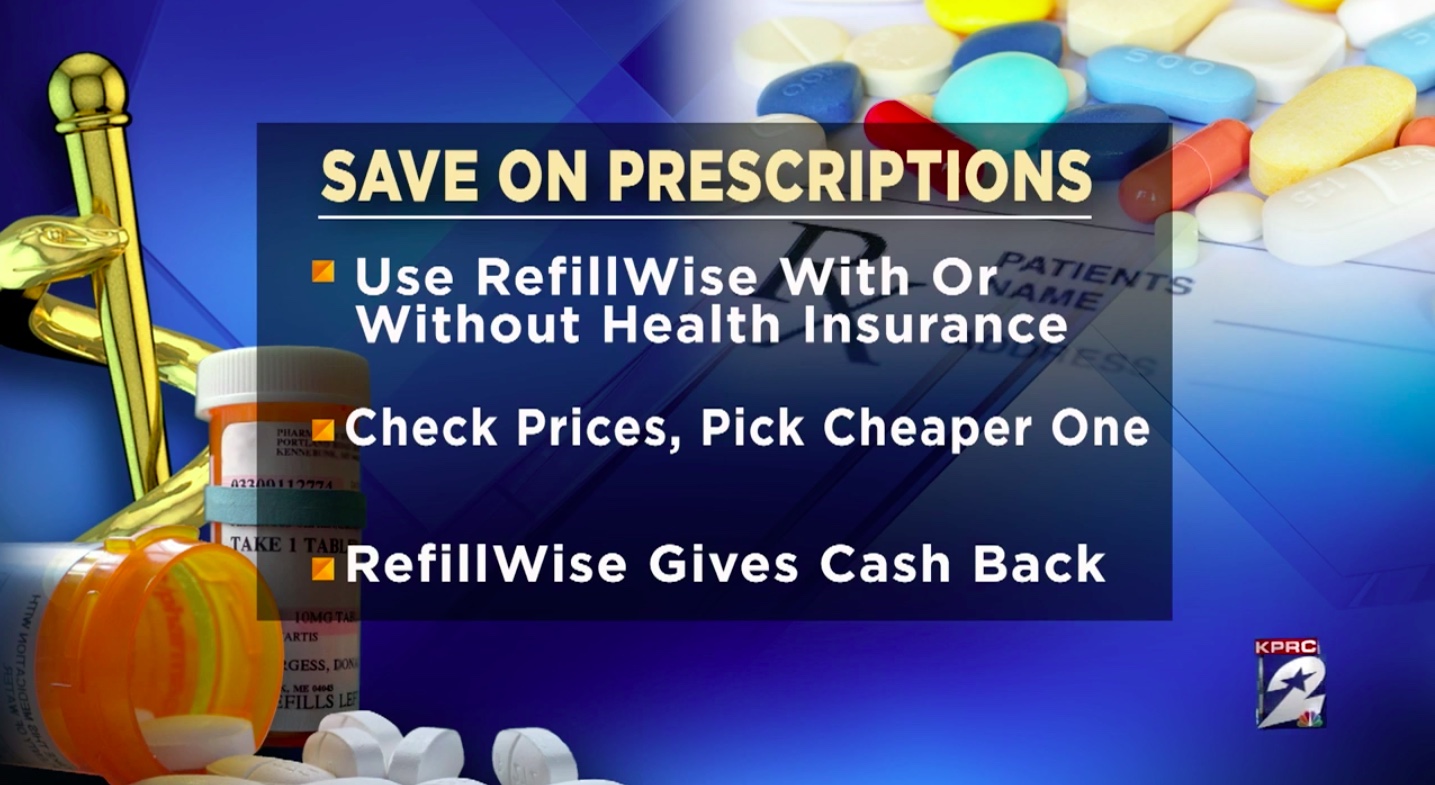 Many people find themselves paying too much at the pharmacy. Whether or not you have insurance, our free card may get you a better price on prescription medicine or durable medical equipment. As Houston NBC affiliate reporter Bill Spencer reports, one Texas grandmother was shocked to realize how much she was able to save by using RefillWise when buying her prescription medicine.
A free RefillWise card has helped people save up to 80% on prescriptions, and we are the only pharmacy discount provider offering cash rewards. Text JOIN to 22822 for a free card and let us know how much it saves you.

RefillWise loves our members. It's free to become a member — simply text JOIN to 22822 or sign up for a free card. Then show your card to your pharmacist to immediately save up to 80% on all prescription medicine and durable medical equipment while earning cash rewards, which can be used to buy groceries or anything else in the store.
We love to hear from our members, learn how they became members, and understand how they saved money. If you have a RefillWise story to share, please let us know.
Meanwhile, here are some heartwarming stories from our members to inspire your use of our free card:
Aberg Center for Literacy recently partnered with RefillWise to sign up students, staff and volunteers for discounted prescriptions. I was moved to tears when I learned that following a three week stay in the hospital, one of our affiliates saved almost $800 in ONE visit to the pharmacy! I am thankful for RefillWise and the impact they are making!
— Shana Harrison (nonprofit executive director)
My insurance stopped covering an important prescription this year. One text to RefillWise saved me $100! Thank you!
— Amy (joined via text)
Used the digital card to refill a prescription that would have cost $300 instead of $38 with the card. I am telling others about this card and my son-in-law is signing up also. Thank you.
— Annie (joined online)
Got prescriptions at Kroger for our family. Original cost was $445. Actual cost with RefillWise was $145, for a savings of $300! We are thrilled!
— Kelly (joined via an employer)
As a social enterprise, we are the only pharmacy discount provider offering our members cash rewards, which accrue at the same time as rewards from your drugstore or grocery store. If you are an employer or nonprofit organization, we want to partner with you to help your employees, clients, and volunteers save up to 80%. If you have suggestions on how we can better serve you, please email us, or call (855) 279-9027. Our card is always free to members and partners, and we never sell your data to third parties. Together we will ease the burden of paying for expensive prescription medicines and durable medicial equipment to make our families, our community, and our nation stronger and healthier.
Newer posts